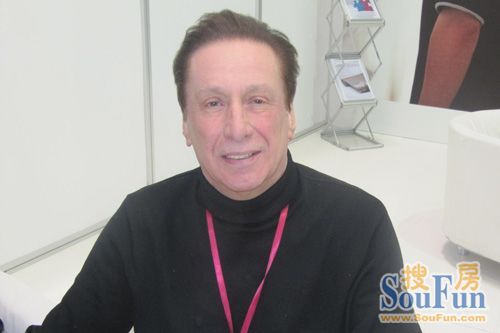 Gavin, President of Oslo Asia Pacific

[Reporter] Hello everyone, today we interviewed Mr. Gavin, President of Oslo Asia Pacific. You are very welcome to come to the 2012 Beijing Wallpaper Exhibition. Today, has Oslo launched some new products?

[Gavin] First of all, thank you very much for coming. At this exhibition, our company also brought a series of new products. The series of this product is called "easylife". The simple translation of English is simple and easy life. This product we are focusing on is good embossing performance. Then give designers and manufacturers as well as consumers a new touch feel, as well as very unique texture effects, which will add a 3D effect to the wallpaper material, and then bring more design to the designer. Ideas, and creativity.

[Reporter] In today's exhibition, what kind of products do consumers prefer?

[Gavin] The most fancy thing is to have high-quality products. Of course, the design is very good at the same time. In addition to high quality and beautiful design, our products have the advantage of being easy to use. It is very easy to stick to the wall and it is very easy to tear off.

[Reporter] What strategic deployment does Oslo have in this year's development?

[Gavin] In this respect, we also made a very big investment in Oslo, because the Chinese wallpaper market is the largest and fastest growing market in the world, so our Oslo was also in mid-2011, Pressed a press conference and prepared to invest 30 million euros in China to set up a factory to produce wallpaper substrates to better serve Chinese customers.

We will have another big move in 2012. We will cooperate with Dongxing Environmental Ink and Wash Co., Ltd. to launch the corresponding activities of "Aoslon Brand Certificate" and "Osron Product Anti-counterfeiting Label" for the purpose of Chinese consumers. You can buy pure high quality wallpaper without anti-proof.

[Reporter] How is Oslo's brand strategy in this year prepared to go?

[Gavin] In the wallpaper industry, Oslo is a very famous brand for wallpaper manufacturers, but for the end consumer, maybe everyone does not have a deep understanding of the Oslo brand, but like us Just said, we will be in the future, as long as it is the wallpaper containing our Oslo anti-paper, whether it is the version, and the wallpaper above, we will add a certificate of Oslo on the wallpaper, and Each roll of wallpaper will be affixed with a security label by our Oslo LOGO. When the end consumer purchases the wallpaper, they can directly see our Oslo LOGO, so that our LOGO can be further passed. In the eyes of the terminal consumer.

[Reporter] Ok, thank you for accepting my interview.
Insulated tote bags are recyclable, reusable and biodegradable. We really hope that you can communicate with our design team to develop a suitable brand image for your company. Our bags are particularly popular with outdoor and camping stores, although they are also popular at farmers markets, fresh produce stores, and grocery stores. It's rugged, which means your customers can reuse it for a variety of different things, such as picnics, camping trips, and other outdoor activities after they buy it from your company.
Thermal Food Bags,Insulation Food Bags,Thermal Insulation Bag,Plastic Ice Bag
Wenzhou Shandao Electronic Commerce Co., Ltd. , https://www.reusablebaglife.com